12 Questions: Kaitlyn Gearin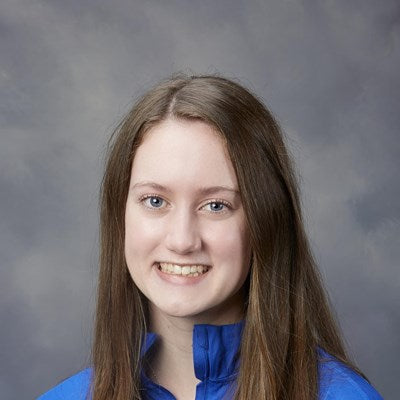 Kaitlyn and Tualatin XC Coach Chris McIsaac

Former Tualatin XC and track standout Kaitlyn Gearin pops by the 12 Questions studio this week and tells us she took up running because she needed a ride home. Kaitlyn is working at PRC this summer and returning to SMU in the fall, where she is studying physiology and health management with an eye toward nursing school. She also competes for the Mustangs in track and cross country and crochets scarves, bags, and little pumpkins, etc.

PRC: In what city and state were you born?
Kaitlyn Gearin: Portland, Oregon.
PRC: What high school did you attend? What was the mascot?
KG: I am a 2020 graduate of Tualatin High School. Go Timberwolves!
PRC: Are there wolves in Tualatin?! Rerouting this afternoon's run....

PRC: What was the make and model of your first car?
KG: I don't own my own car, but I drive my parents' 2016 Ford Edge.
PRC: You should probably get a Ford Mustang. And name it Peruna. Fun factoid—the SMU Mustang mascot is named after a hokey cure-all that was popular during Prohibition as a sneaky way to imbibe. Just thought we'd throw that in there. OK, back to the good stuff.

PRC: How did you get into running?
KG: I grew up playing soccer and softball, but always enjoyed running as well. I remember being very competitive about the jog-a-thon and pacer test in elementary school (ha!) and running the Fowler mile in middle school—which I'm pretty sure [my coworker] Elizabeth [Brands] always won! My brother is two years older than me and also played club soccer, but decided to join Tualatin High's track and XC team after his freshman soccer season. I played soccer in the fall of my freshman year of high school, but started running with the XC team in the winter because my brother did, and he was my ride home. I ended up really liking it and all of the people on the team, so I decided to run track instead of playing softball, and then quit soccer to join the XC team in the fall. I have been running ever since!




Kaitlyn and her brother at Mt. Rainier

PRC: What is your current training shoe? Why?
KG: Nike zoom Vomero 14s. I bought my first pair of good running shoes, Vomero 12s, at PRC my freshman year of high school, and have stuck with them. I really like the wider toe box and cushion of the Vomeros.

PRC: What is your favorite race experience of all-time? Why?
KG: One of my favorite race experiences from high school was competing at the Twilight XC invitational in Washington during my junior year. Our top 12 or so girls traveled to Seattle as a team, and the race was in the evening on a golf course. It was super fun to run cross country under the lights against fast competitors. I set a PR and was happy with my performance. Overall, it was an awesome weekend spending time with my teammates. Also, [coach] Chris [McIsaac] took us to one of his favorite runs in Washington, Rock Candy Mountain, which is now one of my favorite runs that I have been on. I am looking forward to having more favorite race experiences in the near future. With COVID and an injury, the last race that I ran was 19 months ago!


Kaitlyn and her family. Kaitlyn is a sophomore at Southern Methodist University.

PRC: What is your biggest pet-peeve? Explain.
KG: I can't stand the sound of people whispering. The worst is when you can hear people whispering to one another in the same room as you and can make out every word that they are saying.
PRC: Psst. We are with you on this. Don't tell anyone.

PRC: Who is the most famous person you have ever met? Explain.
KG: My list of famous-meetings is quite short, but I did meet one of the now-hosts of American Ninja Warrior, Matt Iseman, in around 2009. At the time, he was on the TV show "Clean House," which was a reality series in which he and his co-hosts helped families de-clutter their homes. My uncle was a cameraman for the show, and I went with my mom and grandma to the big garage sale for one of the houses they were working on and met Matt there.
PRC: Nice! Can you get Matt to help us with the stockroom?



Matt Iseman. Photo ©A&E TV.


PRC: What is the best accessory PRC carries?
KG: Goodr sunglasses! I bought a pair last summer and love them. I will probably have to pick up another pair in a different color!

PRC: What is your hidden talent?
KG: I know how to crochet. I first learned to knit with a knitting loom and eventually with needles, and was then inspired to learn how to crochet as well. I watched a ton of YouTube videos and eventually picked it up. I have made scarves, bags, little pumpkins and other things. I am currently working on a little tote bag, and I think it would be really cool to make a sweater.
PRC: That is awesome. Can Dr. Matt Iseman crochet? We bet not.

PRC: If you couldn't run, what other sport/hobby would you be doing?
KG: I would probably be playing soccer or softball. I did both sports for 9 years before I started running. I played center back on the soccer field and pitched and played second base in softball. Also, I have never really played tennis, but I think that it would be a fun sport to try out if I wasn't running.

PRC: What is the best advice you have ever received?
KG: I would say that the best advice I have ever received is to do what makes me happy. :)
PRC: That is solid advice.