12 Questions: Christy Westover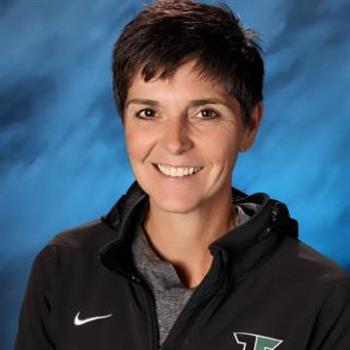 Christy and her dog Roxie.

This week the 12-Questions Dept. at PRC lost count of the number of questions they were asking and served up a baker's dozen to springtime hire Christy Westover. (Kind of like that time they ran a five-lap, one-mile time trial.) Portland-native Christy Westover works in campus security at Tigard High School. For the past six years she has coached track and cross-country at THS, too. She calls coaching the best job ever. So much for working at PRC, we guess. 😒  (Not really. See question No. 10.) 

PRC: In what city and state were you born?
Christy Westover: Portland, Oregon.
PRC: What high school did you attend? What was the mascot?
CW: Aloha High School, home of the Warriors.

PRC: What was the make and model of your first car?
CW: I had a 1970-something Dodge Colt with an oxidized green paint job and fuzzy purple seat covers! It was the 1980s.
PRC: A little like this one?

PRC: How did you get into running?
CW: I got into running because of my husband. I was a bodybuilder when we met. He took me to my first 5K (First Run on New Year's Eve), and I was hooked! The running community is the best!

Christy qualifying for Boston at Eugene.

PRC: What is your current training shoe? Why?
CW: Currently running in the Altra Torin Plush. I like the wide toe box and the cushioning.

PRC: What is your favorite race experience of all-time? Why?
CW: Mt. Hood 50 Miler was my favorite race experience. It took me to a place I'd never been to before. I call it "the ultimate empty" both physically and mentally.
PRC: So, that was your first time visiting Mt. Hood?

Christy says her son Nic is her favorite person in the world.

PRC: What is your biggest pet-peeve? Explain.
CW: When people don't pick up their dog's poop! My poor XC runners have stepped in it too often.
PRC: Who is the most famous person you have ever met? Explain.
CW: I've met several rockstars, but I'd say Aerosmith drummer Joey Kramer is at the top of my list. Running wise, Scott Jurek. He's such a nice person.
PRC: Both rockstars, but only one of them has a Simpsons action figure. Can you guess which one? (Honestly, it's a little hard to tell from the picture.)

PRC: What is the best accessory PRC carries?
CW: Best PRC accessory is Body Glide! It solves so many problems. Duct tape of the running world?
PRC: Yes! We find they are interchangeable.

She likes her husband, Sammy, too.

PRC: How did you come to work at PRC? What's the best part?
CW: I started at PRC in May. [Fellow Tigard HS Coach] Chris McIsaac recommended I apply. I've been a loyal customer for years and always thought it would be a fun job. Who wouldn't love talking to people all day about running?! I'm hoping to keep working with PRC when we go back to school this fall.... I really do love the job. It's so fun helping people. 
PRC: What is your hidden talent?
CW: My hidden talent is painting, water color and acrylic. Abstract is my favorite style.


Christy likes Star Wars. This is the droid she was looking for.
PRC: If you couldn't run, what other sport/hobby would you be doing?
CW: If I couldn't run, I'd bike or swim. Both are things I learned to do properly a couple of years ago.

PRC: What is the best advice you have ever received?
CW: Best advice I've received was from a friend when I started coaching at THS. "Nobody cares how much you know until they know how much you care."
PRC: That is solid advice, TR.

|
Posted on August 13 2021