12 Questions: Johanna Briscoe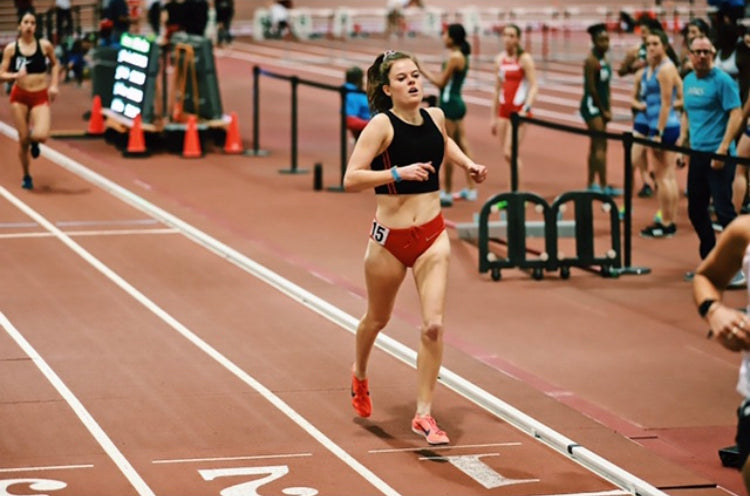 Our 12-Questions crew has concluded another staff interrogation, and the subject this time is Johanna Briscoe. Johanna is a graduate of West Linn High School. She is studying exercise science at the University of New Mexico, where she also competes for the Lobos in track and cross country. She has one semester left and plans to pursue a career as a physical therapist. Here's what we learned about PRC's Johanna Briscoe.
PRC: In what city and state were you born?
JB: I was born in Heidelberg, Germany.

PRC: What high school did you attend? What was the mascot?
JB: I attended West Linn High School. Go Lions!

PRC: What was the make and model of your first car?
JB: My first and current car is an awesome bright blue Subaru Crosstrek named Subi!

PRC: If you run, how did you get into running?
JB: I got into running by warming up and cooling down with my dad when he trained for marathons back when I was in elementary and middle school.

PRC: What is your current training shoe? Why?
JB: Current shoe is the Nike Vomero 14s, and occasionally I switch into HOKA Cliftons for variety.

PRC: What is your favorite race experience of all time? Why?
JB: Fave race experience...this is a tough one. Honestly any time I get to put on the University of New Mexico jersey and represent my college! Proud Lobo!


PRC: What is your biggest pet-peeve? Explain.
JB: My biggest pet peeve is when people come in and ask if we carry "hookahs" instead of HOKAs. In my own life, it drives me insane when my roommates leave their alarm clocks running and don't turn them off.


PRC: Who is the most famous person you have ever met? Explain.
JB: I met the Head and the Heart (a band) and they gave me flowers!!!

The Head and the Heart

PRC: What is the best accessory PRC carries?
JB: The Theragun Minis: They facilitate activation, greater range of motion, muscle release post session, etc.

PRC: What is your hidden talent? Explain.
JB: I pride myself on my parking abilities in most any situation and stress level, as well as musical instruments.
PRC: We heard from a certain athletic department bio that you play the bagpipes.

PRC: If you couldn't run, what other sport or hobby would you be doing?
JB: Nordic skier or boxer! I've been cross country skiing for a long time and think skate skiing or racing would be super cool. Boxing because without running, I'd have a lot of rage.

PRC: What is the best advice you have ever received?
JB: "The best pace is suicide pace, and today is a good day to die." -Steve Prefontaine (Best quote ever.)
PRC: We like the quote. OK if we attribute it to you instead?

Mastodon